Pregnancy can be overwhelming as you are loaded with a tonne of responsibilities, towards yourself and your child. Pollution and stress are the most powerful invisible foes that can affect expectant mothers. Air pollution has emerged as the most important cause of concern for women who are about to be mothers. To keep yourself protected from its foes, you need to make sure you are breathing clean air. These air purifiers for pregnancy will help.
Air Pollution Risks For Expecting Mothers
Various researches have linked pollution to premature birth and birth defects. Microscopic PM2.5 particles, which are less than one ten-thousandth of an inch in diameter, penetrate deep into the lungs, where they can cause inflammation and aggravate heart and lung conditions. They carry carcinogenic compounds into the body.
Other effects linked with exposure to pollution include decreased body length of the baby, decreased placental weight, and a decreased distance from the anus to the genitalia, which can reflect abnormal hormone levels.
Best Air Purifiers For Pregnancy
Air purifiers reduce particulates, allergens and toxins indoors. They eliminate the stress that arises due to the fear of pollution. While selecting air purifiers for pregnancy, you should select a machine that has a HEPA rating. The High-Efficiency Particulate Air (HEPA) ensures that up to 99.97% of the contaminants are removed from the living space. Another point to note is the presence of Ozone. Many air purifiers have ozone or ionizers present in them which cause adverse effects for women with asthma. Here are the safest air purifiers with the best tech specs available that are completely free of ozone.
HEPA Filter
Largest Room Coverage Area 818 sq. ft.
Suitable for large bedroom/living room
Clean Air Delivery Rate 376 m3/hr
Dedicated Allergen mode, Ultra Silent sleep mode
100 percent ozone free
Price Rs 22,999
Available At 
HEPA Filter
Room Coverage Area 441 sq. ft
Suitable for bedroom/living room
Clean Air Delivery Rate 333 m3/hr
Quietest 20 dB noise
Real-time PM 2.5
Dedicated pollution, allergen and bacteria/virus auto modes
100 percent ozone free
Price Rs 17,799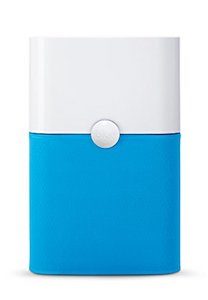 HEPA Filter Type
Coverage area: 540 sqft

Highest Clean Air Delivery Rate

(CADR): 590 m3/hr
360-degree air intake,

Touch push button

Warranty 2 years
100 percent ozone free
Price: Rs 16,969