A Breath of Fresh Air
If you have a dog, cat, or other furry friend, chances are your home is host to a wide variety of pet hairs, odors, and dander. So if you are looking for the best air purifiers for pets, you are in the right place. We have researched hundreds of air purifiers on the market and found 3 of them to be best suited to homes with pets.
Pet Air Purifier Basics
Pets, especially dogs, tend to shed dander and hair on a near-daily basis. Dander/pet hair has a tendency to attract dust and allergens and stays suspended in indoor air leading to quite a few allergies. An air purifier for pets will help filter out odours, dirt and dander from your home. They are a handy device for any pet owner to have, as they will help to purify the air that you and your animal breathe. However, with a lot of different options knowing what features to look for when shopping can be a challenge. Let's take a look at the most important specs to look for.
1. HEPA Filter
The best air purifier for pet allergies and odours will come equipped with a HEPA filter to clean out impurities in your environment. HEPA is the highest standard of air purification and will get the job done.
2. Room Coverage
An air purifier for pet odours and allergies will have a maximum room coverage limit, so ensure the one that you buy has the power to cover an appropriate area of your home.
3. Size
Take into consideration the size of the pet hair air purifier you are considering buying. These products come in all shapes and sizes, to ensure that it is not too big for your space.
4. Pre-Filter
The most important aspect of an air purifier. It sucks and traps large particles like hair which sweeping and mopping may not be able to take care of.
Pet Air Purifier Reviews and Buying Guide
Let's get right to the best air purifier for pet hair. All winning products featured here are great choices, offering excellent air cleaning power, high quality, and affordable prices. In short, you cannot go wrong with any of these products. They work very well for all kinds of pet hairs and pet allergies, keeping the air in your home clean and fresh.
HEPA Filter
100 percent ozone free
Dedicated Allergen mode, Ultra Silent sleep mode
Largest Room Coverage Area 818 sq. ft.
Suitable for large bedroom/living room
Clean Air Delivery Rate 376 m3/hr
Price Rs 22,999
HEPA Filter
100 percent ozone free
Dedicated pollution, allergen and bacteria/virus auto modes
Room Coverage Area 441 sq. ft
Suitable for bedroom/living room
Clean Air Delivery Rate 333 m3/hr

Quietest

20 dB noise
Real-time PM 2.5
Price Rs 16,999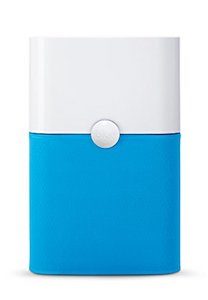 HEPA Filter Type
100 percent ozone free
Coverage area: 540 sqft
Highest Clean Air Delivery Rate (CADR): 590 m3/hr
360-degree air intake

Touch push button

Warranty 2 years
Price Rs 16,969