Why Allergies Happen
You might blame your triggers — the pollen, dust in the air, your friend's pet — for your symptoms. What really causes allergic reactions is your immune system. It mistakes innocent things in your surroundings for a serious threat and attacks them. The symptoms you get are the result.
Worsening Conditioners For People With Allergies & Asthma
Changes in climate, environment, business and lifestyle have increased the number of allergens in the air.
 A lot of people in India have severe allergies. According to the results of a survey on climate change, the rise in pollen allergy cases may be due to changing weather patterns. These may have caused allergenic pollens to become more abundant and widespread.
Air pollution is not news to any Indian. With an increase in vehicular pollution, pollution from increasing construction sites, Indian cities are exposed to more and more toxic particles. Dust and microscopic particulates like PM2.5 get deposited on the lungs and can cause serious health problems.



We are also overly concerned with our hygiene. With soap and shampoo brands bombarding us with advertisements that push us to keep ourselves cleaner, we have made our immune systems incabable of handling stress. This has led to susceptibility to allergies. An international study of participants aged 26 to 54 years old showed that children who grow up on farms, have a reduced risk of developing allergic diseases in adulthood. It seems that exposure to the diversity of microbes reduces the overall reactivity of these individual's immune systems.
Best Air Purifiers For Allergies and Asthma
Living in cities could mean allergic reactions for a lot of us. Our stressed lifestyles combined with lack of open spaces, clean air and water often mean a weak immunity system. Added to that, we have an increased amount of toxins in the air inside our homes. Volatile Organic Compounds present in paint, flooring, plastic materials silently release toxins in the air causing it to be slowly poisonous. In the face of it, it would seem uncaring to not own an air purifier. Here are our top 3 recommendations for those who already suffer from these problems.
HEPA Filter
100 percent ozone free
Dedicated Allergen mode, Ultra Silent sleep mode
Largest Room Coverage Area 818 sq. ft.
Suitable for large bedroom/living room
Clean Air Delivery Rate 376 m3/hr
Price Rs 22,999
Check Latest Price On 
HEPA Filter
100 percent ozone free
Dedicated pollution, allergen and bacteria/virus auto modes
Room Coverage Area 441 sq. ft
Suitable for bedroom/living room
Clean Air Delivery Rate 333 m3/hr

Quietest

20 dB noise
Real-time PM 2.5
Price Rs 16,999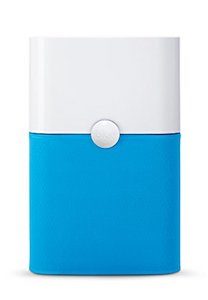 HEPA Filter Type
100 percent ozone free
Coverage area: 540 sqft
Highest Clean Air Delivery Rate (CADR): 590 m3/hr
360-degree air intake

Touch push button

Warranty 2 years
Price: Rs 16,969
Trying to figure out how to choose an air purifier? Here is a guide for you.