Last week, the overall Air Quality Index (AQI) of Delhi was recorded at 315. An AQI between
0 and 50 is considered 'good',
51 and 100 'satisfactory',
101 and 200 'moderate',
201 and 300 'poor',
301 and 400 'very poor' and
401 and 500 'severe'.
As per the Central Pollution Control Board (CPCB), the worst was recorded from Dwarka Sector-8, 376, followed by Anand Vihar at 358, Jahangirpuri 333, Rohini 330 and ITO at 295. According to news agency PTI, the air quality will deteriorate further as the forecast mentioned that in coming days the PM10 level will reach 341 and the PM2.5 level 159.
Smog in Delhi is an ongoing severe air-pollution event in New Delhi and adjoining areas in the National Capital Territory of India. It has been reported as one of the worst levels of air quality in Delhi since 1999. Air purifiers for Delhi is an absolute must in every home. Surprisingly, even cities like Mumbai, Hyderabad and Chennai have recently reported toxic level of air quality in the cities.
Some Alarming Facts About Pollution In Delhi
A Health Emergency was declared in the capital in order to cope with the extrusive amount of polluted air. The day was declared as a holiday for schools, offices and other government centres.

The average level of PM2.5 — a tiny particulate matter that can clog lungs was recorded at nearly 600 micrograms per cubic meter. That's more than 60 times the level considered safe by the WHO.

 Smog-related road accidents in Haryana killed at least nine people and injured 10

Breathing the Delhi air was the equivalent of smoking 45 cigarettes a day

The Pollution pattern did not break even after Delhi, where the pollution levels continued to be hazardous

around

the year.
Here are some air purifiers for Delhi that are powerful enough to combat the deadly smog and pollution it deals with every year, when level reach from poor to severe.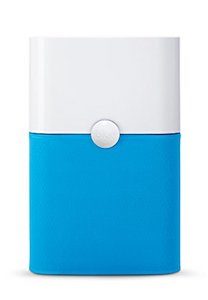 HEPA Filter Type

Coverage area: 540 sqft

Highest Clean Air Delivery Rate (CADR): 590 m3/hr

360-degree air intake,

Touch push button

Warranty 2 years

100

percent

ozone free
Price: Rs 16,969
Click Here To Check Latest Price
HEPA Filter

Room Coverage Area 441 sq. ft.

Suitable for large bedroom/living room

Clean Air Delivery Rate 333 m3/hr

Dedicated Allergen and Virus mode, Ultra Silent sleep mode

Less than 20

db

noise

100

percent

ozone free
Price Rs 22,999
Click Here To Check Latest Price 
HEPA Filter Type

Coverage area: 600 sq. ft

Suited to large bedrooms & living rooms

High CADR (Clean Air Delivery Rate): 450 m3/hr

Washable pre-filter

Three stage advanced filtration

Approximately 3000 hours of filter life

Warranty 1 year
Price Rs 31,999
Click Here To Check Latest Price 
HEPA Filter

Area Covered 400 sq. ft.
CADR  310 m3/hr

Real-Time PM2.5 Monitoring

App controls

Warranty: 1 year on site

Amazon Bestseller Rank 1