Room size is a very important consideration to keep in mind while selecting an air purifier for bedroom and living room. Different air purifiers offer different cleaning capacities and using an air purifier in a space larger than it is suited to, can cause it to filter air inefficiently.  This can lead to your air purifier having a short life. 
If you plan to use it in a room more than 350 sqft in size (typically your living room or a large master bedroom) here are the top 5 models of air purifiers for bedrooms.
If you are unsure what to look for in an air purifier, you can read this article know more.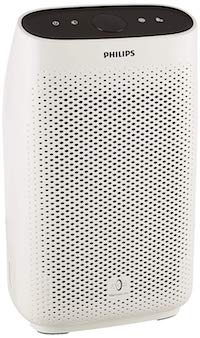 With the highest coverage area of all the models we have analysed, this is the most suited air purifier for bedroom or large size rooms. There is no compromise on other features. It has a high CADR or Clean Air Delivery Rate which determines the efficiency of an air purifier, taking into account room size and the volume of clean air produced per minute. The HEPA filters out particles as small as 2.5 microns with 99% efficiency.
The smart air sensor can detect PM2.5 (microscopic particulates that cause respiratory diseases) levels and boost the air purifier's speed to deal with the pollution. The air purifier constantly monitors your bedroom air quality, delivering clean air while you sleep.
Notable Features
Best Coverage Area at 677 sqft / 63 sqm for the price
HEPA Filter
AHAM certified Clean Air Delivery Rate (CADR): 270 m3/hr

Removes 99.97% allergens & ultra-fine particles as small as 0.02 microns, 100 times smaller than PM 2.5

Air Quality indicator which is colour coded

Child lock

Warranty: 2 years

Filter Change Alert

Night Mode: The dimmed and/or switched off lights and the low sound help you sleep better.
Price: Rs 9098 
Available at 

---
Perfect air purifier for bedroom and especially large living rooms. It has one of the highest covered areas. Comes with a Real-time PM2.5 measurement display with professional-grade air quality sensing which tells the reading of PM2.5 particulates in your room. It has a dedicated Allergen mode, Ultra Silent sleep mode with NanoProtect S3 Activated Carbon and True HEPA filters, VitaShield IPS Technology
Notable Features
Highest Room Coverage at 818 sq. ft. / 76 sq. mtrs
HEPA Filter
Clean Air Delivery Rate (CADR): 376 m3/hr
24 hrs digital timer

Tested for

H1N1 virus (swine flu) removes other viruses, bacteria (99.99%), TVOC & odours.

Child Lock

Option to switch off lights at night using the touch panel

Warranty 2 years
Notable Features
Price: Rs 25,079
---
Rs 25,099.00 at 

Low noise of operation with built-in sleep mode. An intelligent auto mode that works according to pollution level in the room; Best in class airflow design – zero blind angle ensures optimum air suction and delivery in all parts of the room. 3000 hours of filter life, basis the ambient pollution can work for a year if used for 6 hours daily. HEPA and HiSiv patented technology with

a unique

honeycomb design that removes PM2.5, pollen, bacteria, virus, formaldehyde, toxic gases, VOCs and odour
Notable Features
Honeywell's only model with large room size coverage of 600 sqft (56 sq metres)

HEPA Filter

AHAM certified High Clean Air Delivery Rate (CADR) at 450 m3/hr
Child lock

Warranty: 1 year

No exposed filter

Anti Fall Design
Price: Rs 25,099